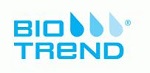 BIOTREND provides customers among others with complex organic chemicals for biomedical research, more than 11,000 mono-and polyclonal antibodies for research and diagnostics and secondary antibodies labeled to AP, Biotin, Colloidal Gold, Cyan, FITC, HRP, PE, Texas Red™ and TRITC. Supplier specializes in ready to use substrate solutions and fizzing tablets for the visualisation, range of more than 1900 neurochemicals as well as over 350 lipids, sphingosines, inositides and products for Signal Transduction research in pharmacology and neurochemistry research.
Supplier's offer includes:
Apoptosis
FasL-Strep Trimer
Protein Kinases
Protein Phosphatases
Modulator Proteins
Kinase Substrates
Initiation Factors
Antibodies
Biochemicals
Cell Culture Products
Perfecta3D™ Hanging Drop Plate
Recombinant Human Albumin Sera
High Quality Plasma / Sera
ELISA-Reader /-Washer
Multi-Detection Microplate Readers,
Absorbance Microplate Readers (including evaluation software)
Microplate Washers.
High Sensitivity Assays
Immunoassay Kits
Immunochemicals
Primary Antibodies
Secondary Antibody Conjugates
Epitope Tags, Fusion Proteins etc.
Detection Kits
Enzyme Substrates
Avidin, Biotin, Streptavidin
RIA-Kits
Protein Standards & Controls
Custom Antibody Production and Services
Antibodies from AnaSpec
Neurochemicals
Peptides
Radiochemicals
Receptor Preparations