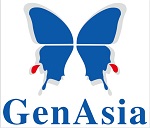 GenAsia Co.,Ltd is a professional company which focuses on life sciences products and biotechnology specializing in reagents of immunodiagnostic technology. It offers more than 20,000 products, including ELISA kits, Antibodies, and Proteins.
Supplier's offer inlcudes:
ELISA Kits:
Human
Bovine
Rat
Canine
Mouse
Simian
Porcine
Chicken
Rabbit
Guinea pig
Antibodies
Primary Antibody
Polyclonal Antibody
Monoclonal Antibody
Secondary Antibody
FITC Conjugated
Biotin Conjugated
HRP Conjugated
AP/CY3 Conjugated
 Protein
Serwis wykorzystuje pliki cookies. Korzystając ze strony wyrażasz zgodę na wykorzystywanie plików cookies. dowiedz się więcej.